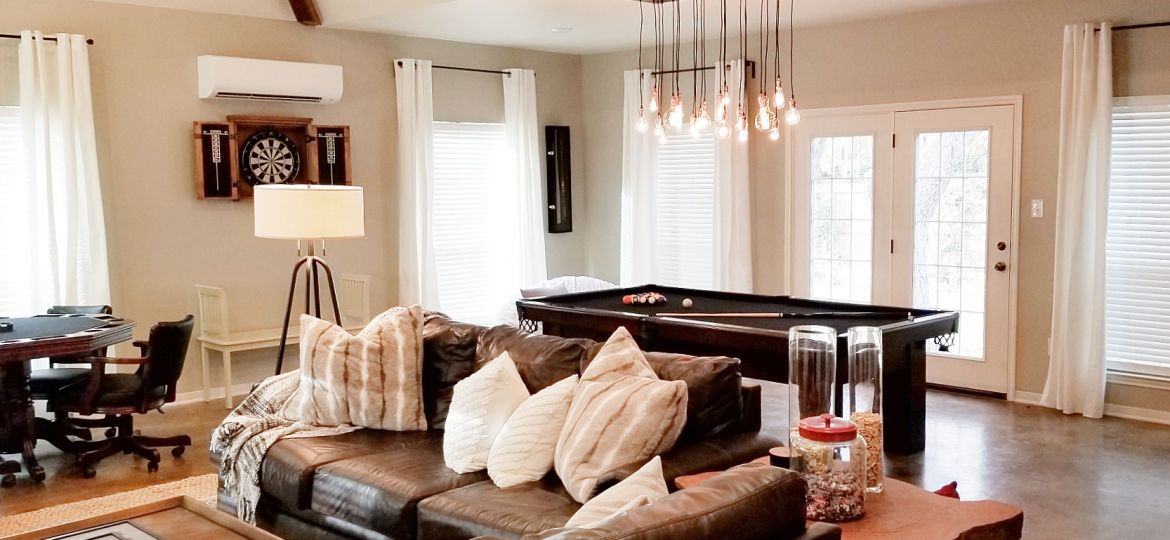 T & S Game Room Restyle – Temple Texas Interior Designer
Temple Interior Designer.
This project was fast & fun! A client who had recently added a game room addition to their home contacted Maison Chic Interiors about pulling it all together with decor and finishes. The room was perfectly designed around all the games and fun entertaining spaces that this family enjoyed – it just needed it's own personality & that's where we were able to help.
The Plan
Most of the anchor pieces were already in place – a pool table, sofa & love seat, poker table and big screen TV. After a quick consult with the client – we decided to utilize a nostalgic raw edge end table that was stuck back in a corner, replace the small trunk coffee table with something larger & find a rug that was less formal. The walls needed a slight touch of color against the white doors & trim so we selected a soft gray and left the vaulted ceiling white to show off the gorgeous wood beams. The client requested that the red corner wall remain as a celebration of their teenage son's high school colors so red became one of the accent colors to mesh into the rest of the space.
The Details
This room really just needed the fine details – like textiles and specific wall art pieces that were fitting for a game room & would add interest without being cheesy. We selected a large canvas patent print of a playing card for the poker table area & replaced the small dart board with a stylish dart board cabinet.  A special display area for the client's mini baseball bat collection was created above the snack bar along with a few old football and soccer balls. A set of 2 bats that were sentimental to the client's teenage son were hung in a display case for safe keeping. Soft furry pillows and throws tossed on the sofas pulled the gigantic white minky-fur covered bean bags into the design with perfect precision. A large square wooden coffee table was the ideal location for a collectors version of everyone's favorite Monopoly game set. Long simple ivory grommet drapes frame each window while still allowing in natural light from every angle.
Glass vases and jars became gorgeous vessels for vintage game & puzzle pieces on the raw edge end table. The snack bar and floating shelves were spruced up with color and game room themed decor plus a beautiful row of candy jars filled with the client's favorite snacks. Family photos & fun frames sit atop the TV console.
Pièce de résistance
The crowing jewel for the game room restyle was the custom designed exposed bulb light fixture for the space above the pool table. Industrial Lightworks out of California worked with us to create the perfect piece and it was even better than we had imagined when it was installed. Amber Edison bulbs hang like sparkling jewels over the dark felted table & cast a warm, cozy glow across the entire room.
This restyled game room is functional, inviting, comfortable and beautiful all at once – definitely a place our clients will enjoy for years to come. Check out the before & after galleries below!
Thinking about a new look in your space? Let's talk about it!
temple interior designer, game room restyle, maison chic interiors, interior design, interior decorator, custom lighting, killeen interior designer, harker heights interior designer, paula raymond, room restyle, home remodel, space planning