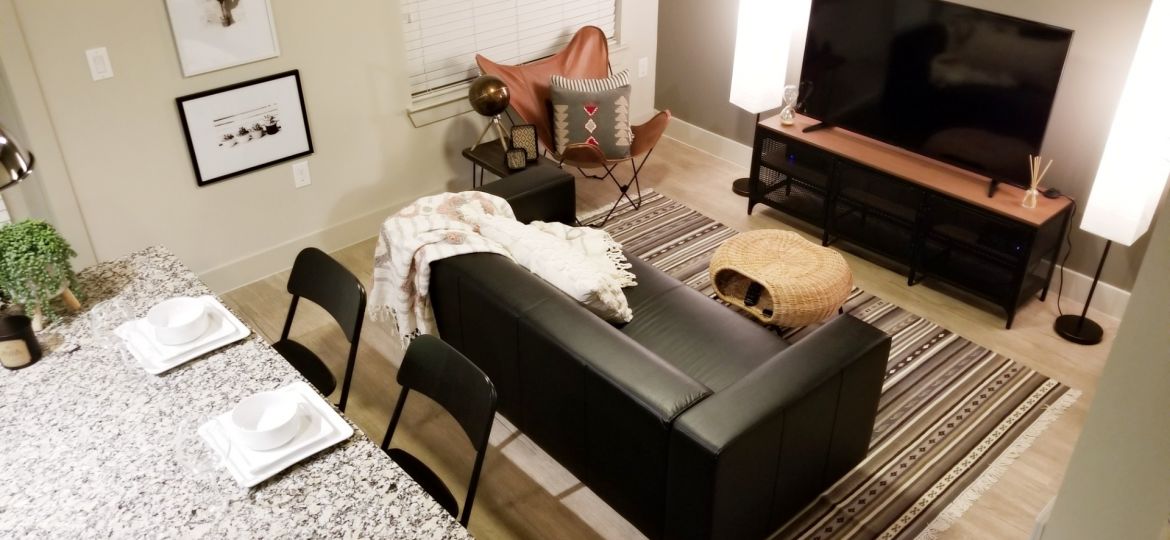 Dallas Bachelor Pad Project 2020
Everyone needs a comfortable place to call home and this week we were able to help with that! A Dallas bachelor – a small apartment – and Maison Chic Interiors worked together to set up a stylish home in a simple and affordable way.
The Problem
One of the problems that apartment dwellers encounter when sourcing furniture that is the appropriate scale for a small space. Many of the name brand furniture stores offer endless options of large and over-stuffed sofas & chairs but they tend to look quite ridiculous in an apartment. We solved this problem by shopping in stores that offered smaller scale items while still providing comfortable seating.
The Solutions
The black sofa & bar stools were sourced at IKEA – which is famous for being the perfect place to maximize space! The rustic leather butterfly chair was found at Pottery Barn. Texture and comfort were added in the pillows, rug and throw. And like I have said in every other project…"lighting is everything." Two inexpensive rice paper lamps flank the perfectly positioned TV console.
To bring just a touch of personality to the space – we added 2 black and white cactus photos and a fun letter board with a family quote that means a lot to the client. Artificial succulents always help to add a bit of green without saddling anyone with plant maintenance.
Our bachelor client was thrilled and so were we! Enjoy the before and after photos and let us know if you're thinking about a new look in your space!
dallas interior design, harker heights interior design, maison chic interiors, apartment interior design, apartment decor, bachelor pad design, paula raymond,