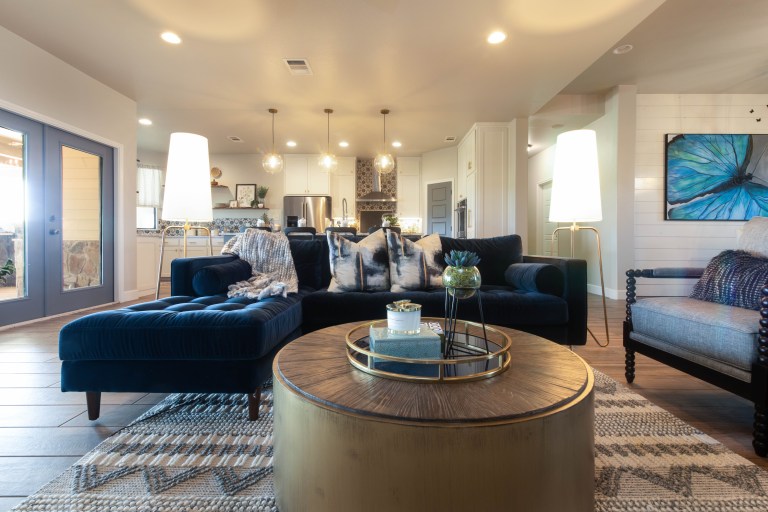 H & L Main Living & Kitchen Remodel – Academy Texas – Interior Designer
HAVE NO FEAR – MCI IS HERE!
This project was WOW from the beginning! We were so thrilled to get the call for a design & kitchen remodel consult and even more giddy to see the space in person. These wonderful clients moved to the area to be near their daughter and grand-babies. They purchased a large home near Academy TX on a lot that suited all of their exterior needs. The home wasn't exactly what they needed or wanted and that is where Maison Chic Interiors arrived on the scene.
WHAT HAPPENED HERE?
After our initial meeting and tour of the home it was obvious that some previous attempts at transformation had occurred with past owners. The home was originally built as a somewhat rustic/tuscan style – except the kitchen was white and oddly out of sorts with the rest of the design. The tall bar top cut the open space in half – and the lone column at the formal dining space looked like a pirate's peg leg standing in the middle of the room. Previous owners had added to and changed things like built-in shelves, lighting fixtures and window treatments. Any design flow that was once there, was no more.
ALL IN FAVOR SAY "DESIGN!"
Everyone was in agreement that major changes had to be made to truly open up the large main area and create a united design with defined spaces. H wanted a design that offered a more rustic-modern farmhouse feel and L was firm about wanting mid-century elements in the new space. Our work was definitely cut out for us – and we were up for the challenge!
GUT FEELING
Sometimes – you have to undo it – to do it right. This was the case in our kitchen. It all had to go – total gut. Open kitchens – although very posh and cool…don't offer a lot of storage space since there isn't usually a lot of space for upper cabinets. Hmmm…what to do – what to do? We put our thinking caps on and pondered about just how often the teenie-tiny bay area breakfast nook would really be used if it was only outfitted with a small 2-3 person table. The answer was – "never." So – in a genius effort to maximize as much available space as possible – we extended the kitchen counters into that bay and BAM! The kitchen was suddenly twice as big!! This was a decision that no one looked back on with doubt – the end result was not only stunning but absolutely 100% functional. And…no seating space was harmed in the making of this redo. The new counter height island & bar gave the client's 4 eating spaces! All of the cabinets were custom measured and made with love by Moseley Cabinets out of Copperas Cove Texas. Jim Moseley did a fantastic job – so much so that the clients hired him to replace all of the cabinets throughout the house!
TO TOP IT OFF
Now that we had the foundation pieces in place (those gorgeous cabinets) – we needed counter tops that were stately enough to equally stun the onlookers. Martin Retana with MR Granite was tasked with this part of the project and he came through with professionalism, quality stone and a top-notch install job – all on time as promised. The stone we chose is Tormenta Blanca calcite – meant to mimic marble in it's aesthetic but more like granite regarding it's durability & price. It was the perfect choice to top the white cabinets and gray island. A bold patterned cement tile adorns the backsplash and brings in a slight mid-cen feel along with the more farmhouse style shaker cabinets. All-in-all the kitchen is the perfect mesh of both styles and both clients were equally happy with the result.
WE WERE CRUSHING ON THE SOFA – BIG TIME
The single inspiration piece to this collaboration was a a gorgeous dark blue velvet sofa. It was soft. It was fab. It was perfect. It's the kind of furniture that makes you sit across the room and just stare for hours. The space plan called for 2 accent chairs – and a small L-shaped sectional sofa. The sofa was the mid-cen element and the chairs brought in a traditional balance. The accent tables in soft gold with wooden tops had a little touch of rustic and modern and helped blend it all together in perfect harmony.
BUTTERFLY BLISS
The dining room chandelier was the inspiration for a butterfly theme – and we took that and RAN! The Modern Monarch chandelier brought the mid-cen flare into our room – and the rustic raw edge table offered H's touch – which we gladly spread through the rest of the space with a raw edge mantle and raw edge floating shelves in the kitchen. Then, a shiplap accent wall – but not washed or distressed as we usually see – no, no, no,  this shiplap was high-gloss white – shiny and new! The same technique was done on the rock fireplace as well – covering up the sandy river rock and transforming something meant for the exterior – so it melded seamlessly on the interior. The peg-leg column and bulk-head arches were demo'd out and the formal dining space was now truly a part of the magnificent new open concept. L is an amazing artist & painter and WOW – she really pulled out all the stops in her own design. We commissioned her to paint her own custom butterfly piece for the accent wall – and "stunning" is not even close to what it is. It is definitely her pièce de résistance. WAY TO GO L!!! The fluttery butterfly silhouettes flowing effortlessly around the painting were the final touches to this one of a kind dining space.
OUT OF THE CLOSET
Once upon a time, there lived 2 coat closets behind the front door in an entry way that simply was not living up to it's potential. No more. The 2 closets were demo'd out – and our amazing cabinet maker created an entry bench and drop-zone that will be 110% more functional and beautiful for these clients in their everyday living. The patterned cement tile & island paint color were brought into the space as well and as you gaze across the scene of the entire space from this vantage point – there isn't a single thing that is off or unbalanced.
Check out the before and after galleries below! Feeling inspired? Let's Talk About It!
CREDITS
Paula Raymond – Interior designer, decorator & project manager
Paul Stokke – Handyman
Riley Wilson – Design assistant
Jim Moseley – Moseley Cabinets – Custom cabinets
Martin Retana – MR Granite – Custom stone counter tops
Rick's Painting – Interior painting
Lumber Liquidators – flooring
Bobby Painter – Tile installation, shiplap, trim
Joe Bailey – Electric
maison chic interiors, harker heights interior designer, academy interior designer, mid-century design, modern farmhouse design, paula raymond, interior restyle, remodeling, general contractor, project manager, kitchen remodel,