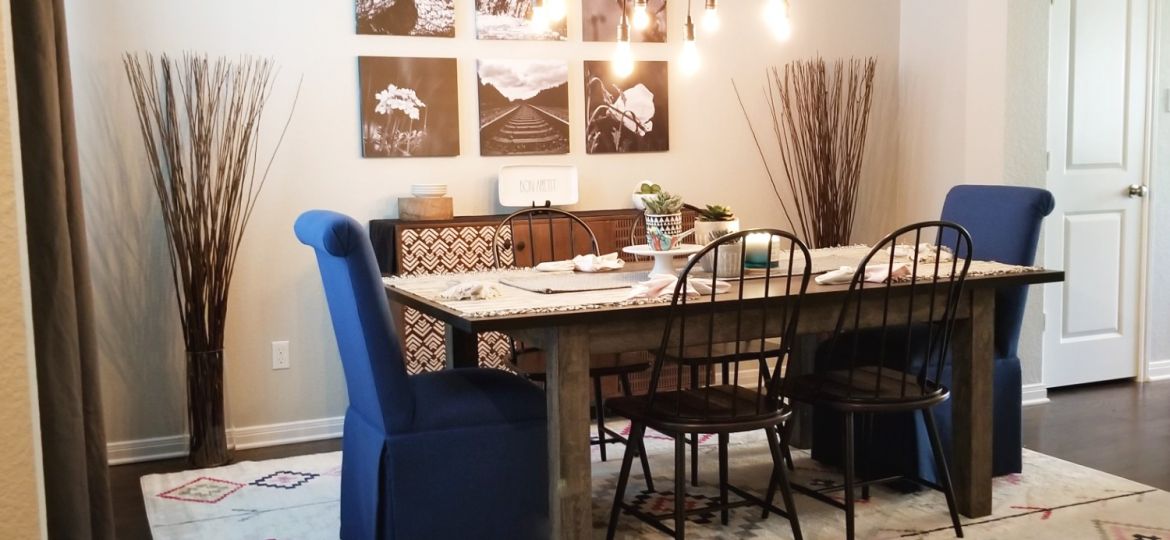 A & S Main Floor Restyle – Copperas Cove Interior Designer
This was a 2nd project for an amazing repeat client in Copperas Cove. Last summer I worked with A & S on their master bedroom & bathroom remodel. It turned out so dreamy – a true retreat for a hard working couple at the end of the day. (See the A & S mastersuite make over HERE. )
This time around, A & S wanted the rest of the main floor to coordinate with the new design of the master suite. The spaces involved in Project 2 were the kitchen, breakfast area, formal dining room, family room and foyer. This project would entail new furniture, paint, lighting package, window treatments, rugs & decor.
The client liked the paint color in the master suite so much, she carried it on through the rest of the house for this project. The plan for the over-all theme was to keep it simple and classic -with just a touch of color & slight country feel. What we ended up with was a soothing, inviting and homey and two very happy clients.
The formal dining room and entry were finished out with all new furniture & accessories. This where a bit of color came in, inspired by the fun aztec rug we sourced online. We pulled the blues, greens & pinks and scattered them every-so-lightly over the space. And then…. we contrasted with the incredible stretched canvas photos in black & white that the client's high school son took specifically for the project. The 6 canvases adorn the wall laid out in gallery style right above the sideboard. Long gray drape panels, 2 upholstered dining chairs and a rustic beam with exposed Edison light bulbs finished out this space with a personality & charm that will make a wonderful greeting with each walk through the front door.
In the family room we used tall ivory drape panels over the triple windows to allow light in while softening the hue in the space. A custom TV armoire was designed & built by Moseley Cabinets and we used the client's existing coffee table, sofa & love seat. Lamps, mantle art and comfy pillows & throws helped bring it all together. Above the kitchen cabinets and across the counter tops – we used a few select pieces to bridge the gap between the formal and casual spaces.
Check out the before and after galleries below!
copperas cove interior designer, family room restyle, dining room restyle, interior design, interior decorator, home remodel, maison chic interiors, paula raymond, harker heights interior designer, killeen interior designer, kitchen remodel,