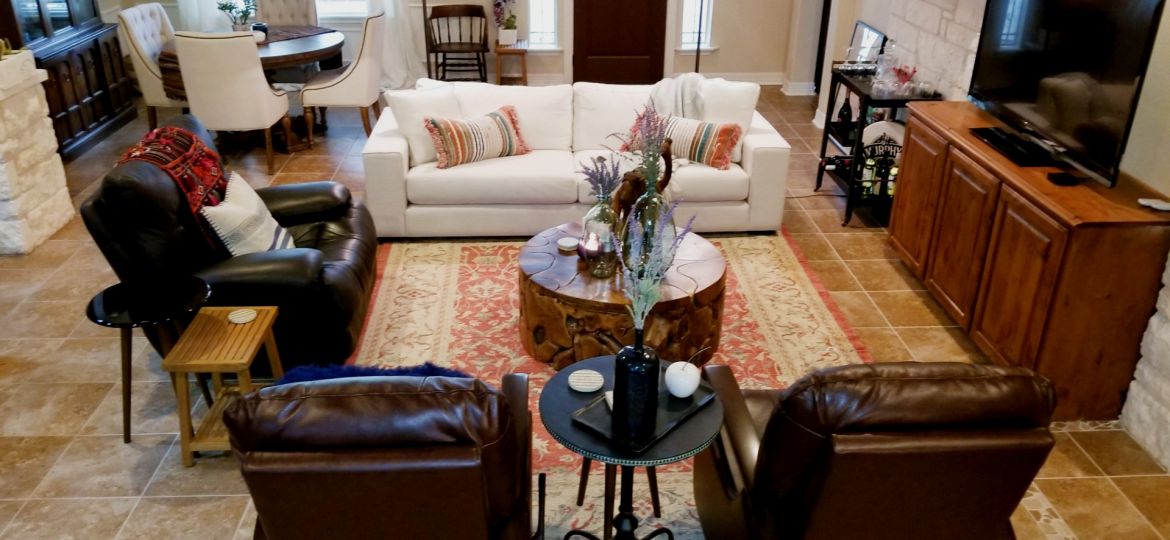 PS Family Room Restyle – Harker Heights Interior Designer
Harker Heights Interior Designer.
This was another emotionally charged and totally amazing restyle for an equally awesome interior design client in Harker Heights. Based on a recommendation from a friend, PS called me about taking a look at his main living area for a refresh & restyle. The motivation for something new was brought about by recent life changes – the kind we all go through sooner or later. Sometimes a fresh scene really helps us settle in to moving forward.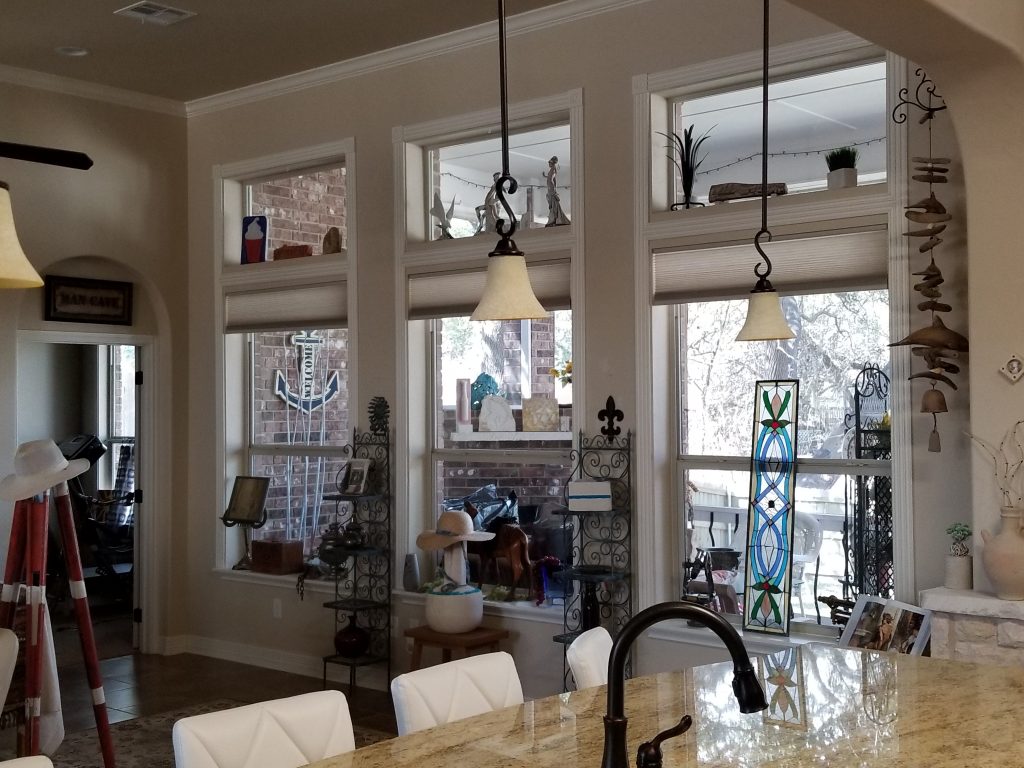 This Harker Heights home was beautiful, large and had lots of fun character with huge windows overlooking the backyard, open concept main living and exposed limestone in several places inside. It was a mix of rustic, sophisticated country and just a hint of Mediterranean. I like to call that "eclectic" and there's nothing I love working with more than that!
Something is Off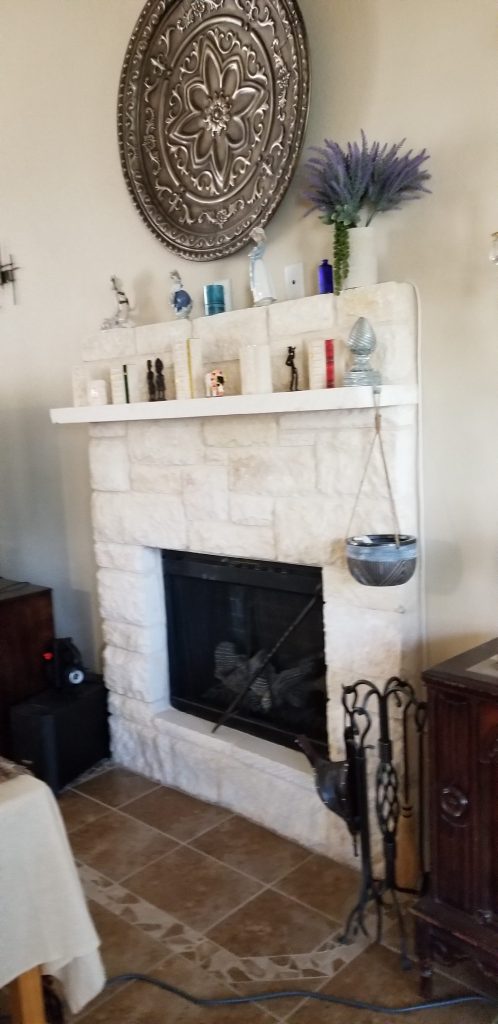 As a designer, my brain starts working the space like a mathematician starts working a numbers problem. I can't help it. I can't stop it. I have to get to the bottom of it! This space, as fabulous as it was had one beaming problem…it was seriously off-balance. The builder for whatever unknown reason – positioned the fireplace & stone facade towards the back of the large room with no other defining features for that or other areas of the space. The room screamed for something to balance the center of the room – but even the ceiling fan was in the wrong place. I stood for a long time – and then kept coming back to "why??" – and in the end – I couldn't figure it out – sooo… we just changed it!
An Idea Was Hatched – and then Lovingly Molded to PERFECTION
Sometimes I get to work with a brilliant mind…and those opportunities are like GOLD! My raw & first idea was to continue the stone facade across the wall and place another mantle or mantles in strategic places -with the TV mounted on the stone in the center. So essentially the entire wall would be an exposed stone feature wall – still with the fireplace off-center but balanced with shelves, TV cabinet and art. The client took that idea and molded it into his own design and we ended up with a twin stone facade on the opposite side of the custom TV console – with matching twin mantles custom made to mimic the kitchen cabinetry. PERFECTION!
A Wall of Windows
The entire rear wall of the family room is adorned with a triple set of tall picture windows – topped with stunning transoms that overlook the gorgeous backyard & patio. According to the client, this was the "feature" as soon as anyone cleared the front door. Although we definitely want to showcase any outdoor views that are worthy… we don't want to give up any opportunities for gazes to fall in a few places on the inside on the way out. This is where I had my work cut out for me!
Typically I have my BEST ideas after I visually "take in" the space and then literally sleep on it. I have had some AMAZING design ideas in my dreams and now I can't WAIT to fall asleep after seeing a new space. In this specific case though… those triple windows were begging for a vintage church pew to live low and long right in front. I knew it right away and mentioned it to my client on the first meeting. To my delight and surprise…he sourced one online that night and was off to fetch it the next day! Boom! We have the perfect church pew as an additional layer to the design and more seating for when needed. I found out in the end…its the absolute best place in the space to absorb the gigantic changes that happened during the project and after the final install of decor and treasures.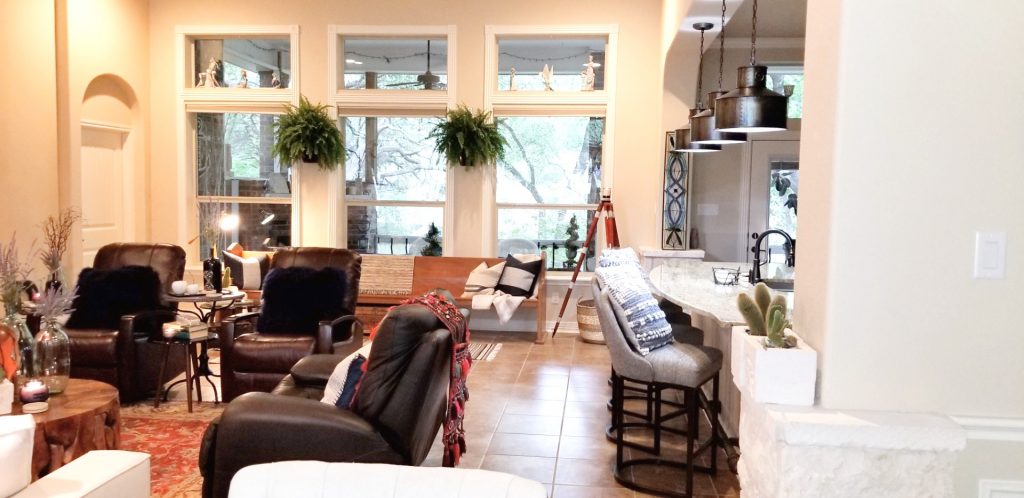 The Remains
During the beginning stages of a design collaboration, the client and I discuss what goes and what stays. We talk about sentimental value, decluttering, integrity of the new design that has been agreed on and what is practical and functional. We also talk about the hard things –  which are usually furniture pieces or decor that don't work in the new space. I always talk about how those items can be used in another room especially if they hold a sentimental place in the client's heart. In the case of this client – PS was really on board with whatever was in keeping with the new look, and I was in tune with what he "wasn't saying." I knew there were some specific pieces that needed to stay – and I hope that their placement was worthy of their sweet history & meaning in this home.
The Anchors
Every room has anchors…the major pieces and/or statements in the space. But, there can only be ONE "boss" – and that's a hard thing to convey sometimes. Basically it means that if everything makes a statement – then "nothing makes a statement." So…in the old room – I have to say that the windows were the "boss" … but unfortunately we had to strip the title….and give it to the new stone feature wall. The anchors to the new wall were the new furniture pieces – sofa and sleek rocker recliners and last but not least – the fabulous and amazingly unique wood coffee table that weighs NO LESS than 9 million pounds….I know because I "tried" to move it by myself…. not happening.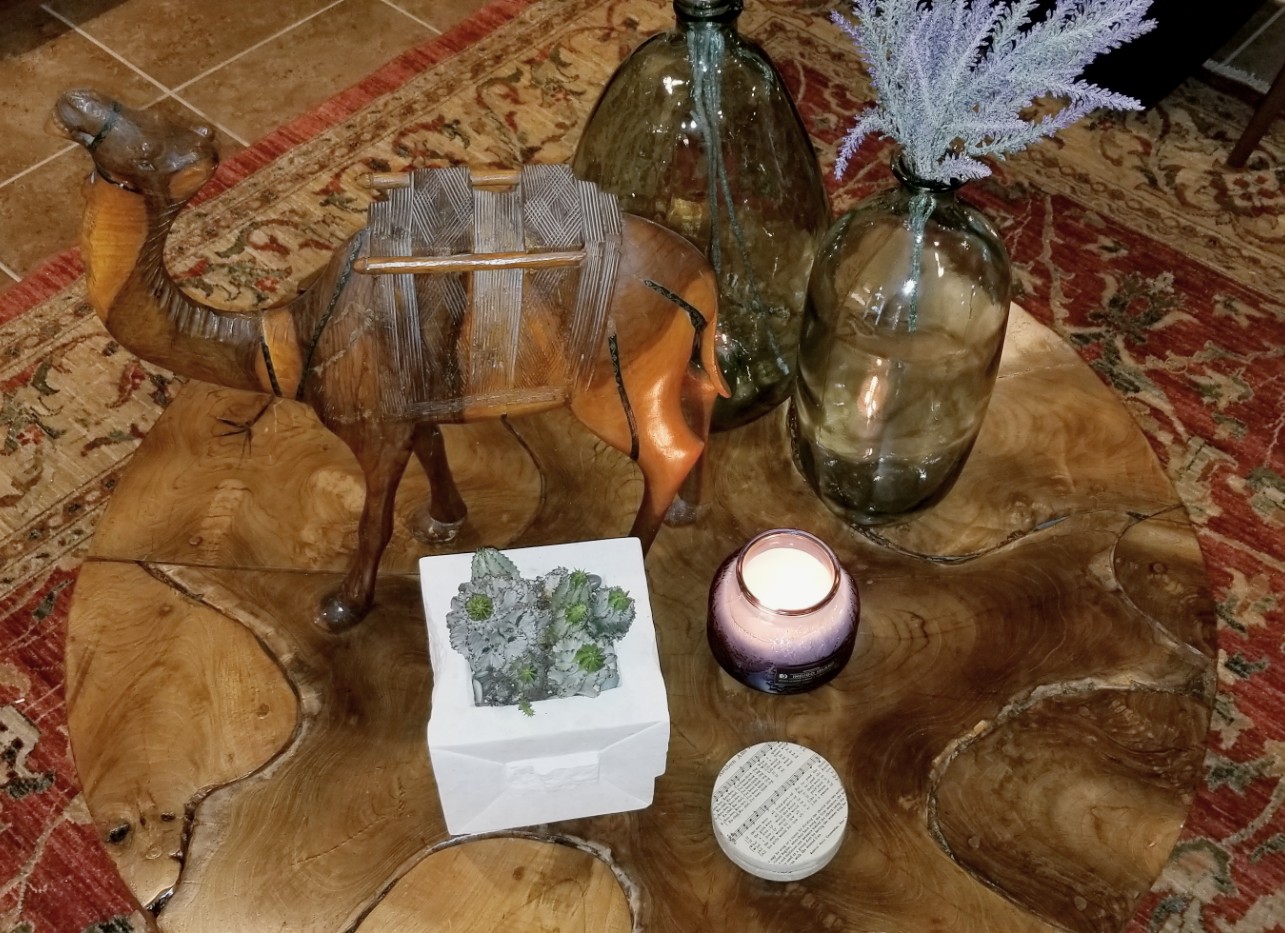 Visions Becoming Reality
Sometimes I get a little extra time to curate a design – and this was one of those special times. Because of some labor scheduling on the stone wall – I was able to squeeze out a few extra days to think and shop for the finishing touches. Sometimes I know that annoys the client but I secretly appreciate it because I KNOW in the end…they will never remember their frustrations – because they will be too enamored with their beautiful new space.
This project was so much fun because the client had just many hidden-away treasures to choose from as was needed from outside sources. I went on a couple of treasure hunts in closets & storage spaces for books, interesting floor pieces, random accent furniture and small details like hats and scarves… and then filled in the blanks with new and unique miscellaneous decorative accents from my trusted retail and wholesale outlets. In the end, the space looked like a decades-long curated home that packed quite a punch with personality and whimsy – with just a touch of sophistication and nostalgic class.
The Reveal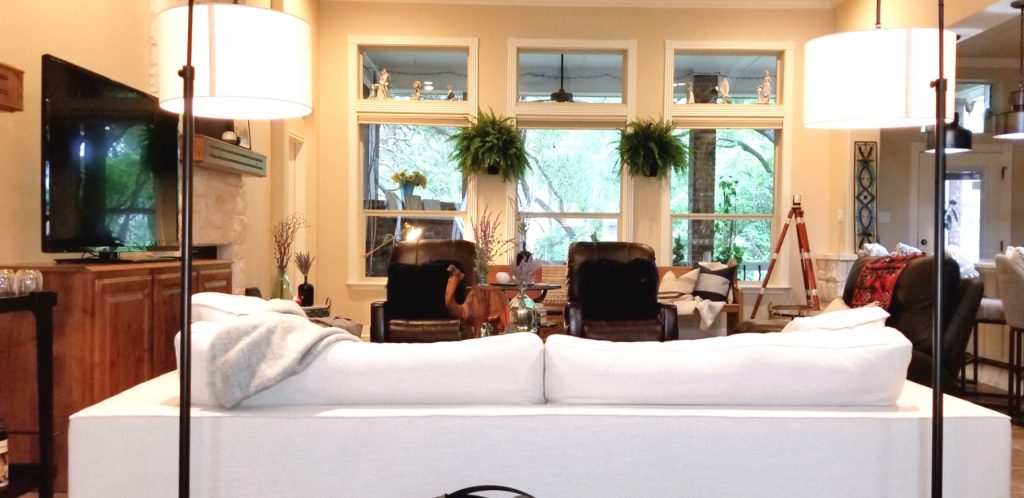 After 10 hours of sweat & tears… the text was sent – " Ready for you anytime!" The music was set to classic piano by Marshall Styler, the lights were dimmed perfectly, pillows were fluffed and candles were flickering while simultaneously wafting amber, sandalwood and vanilla scents through the air. I saw PS's car pull up outside and met him on the walk – he was happy, nervous and a wee bit excited…I could tell. We walked to the front porch together and then I let him open and enter through the door on his own… he made it 2 steps inside and then the "smile of the century" that I had hoped for appeared on his face. I knew instantly that he loved it – and even he – was a little surprised at that feeling. I immediately exhaled a little sigh of relief – because it's always a heart-stopper- those moments before a reveal…you want so badly for them to LOVE it, but there's always a chance that expectations didn't align. Not this time though…not this time.
Taking It All In
The first look on a client's face is almost priceless…but watching them go further into the space over the first 3 minutes is simply priceless. Even I sat in the finished space for 1/2 an hour before the client arrived – and I saw something new every few minutes. So watching PS walk around and discover this new space that was assembled from his own cherished belongings and accented by new and enchanting pieces was a joy that I could never explain in words. My heart felt it and that's all that matters. PS loved it, and I loved watching him fall in love with it just as much. This is why I do what I do… I take away a little joy from watching a beloved client realize their home is and always was exactly what they wanted it to be…it just needed a little refresh & restyle.
BEFORE AND AFTER GALLERY
Check out the before and after photos of the transformation! Thinking about a new look in your space? Let's Talk About It!
harker heights interior designer, family room remodel, restyle, maison chic interiors, home remodeling, contractor harker heights, contractor killeen tx, killeen interior designer, interior decorator, space planning, copperas cove interior designer, home remodeling, killeen contractors, decorate, home design, new construction design, remodel design, paula raymond, texas heritage real estate, harker heights interior design, killeen texas, harker heights texas,