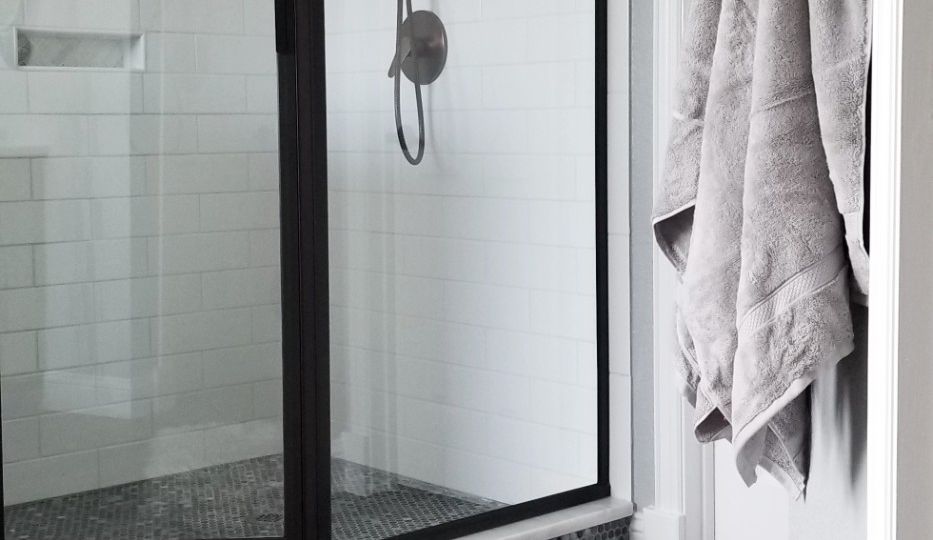 L & N Master Suite Remodel – Copperas Cove Interior Designer
I am SO PROUD to finally post the reveal of this very amazing master suite remodel and restyle for and EVEN MORE AMAZING sweet couple in Copperas Cove!
This couple contacted me in late 2018 – way ahead of their desired start date. We met and discussed their wishes to remodel and restyle their builder's grade master bathroom. The main malfunction was the stand up shower – which was sadly lacking in elbow-room – quite literally. It would have been a challenge for a child to bathe in the existing space, so it was a real stretch for me to figure out how 2 grown people were using this tiny shower every single day. Sometimes builders cut corners in the strangest places – unfortunately it was the shower in this case.
Old School Style Designing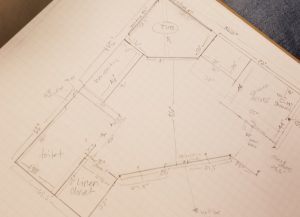 I went to work "old-school-style" with grid paper and ruler – and several Pearl erasers…and finally squeezed out every inch possible for an expanded shower space. It would involve removing a wall and borrowing a few inches from one of the vanities – but in the end it was all worth it! By angling the door entry to the shower, adding glass walls and niches – we maximized the space for everything it was worth!
The only thing that remains from the original bathroom is the corner bathtub – which will eventually be adorned with custom glass art in a herringbone pattern. Unfortunately, the windows were not ready for the final design install but I promise to update the gallery photos as soon as they are in place!
What We Did
The redesign included all new flooring, custom cabinets in the bath & walk-in closet, new paint, new lighting & plumbing fixtures, gorgeous Carrera marble vanities & accent tile in a herringbone pattern, multi-colored penny round shower floor tiles, and of course all the details like new towels, rugs & counter top accessories. The finished result – although a feat that challenged everyone's patience…was one of the best I've seen.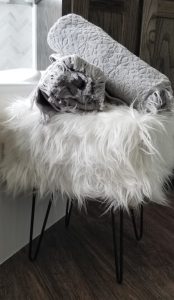 In the master bedroom – we added new bedding, drapery panels, area rug and  perfectly sourced wall art and accessories to suit this couples sweetness & faith in each other and God.
Personal Touches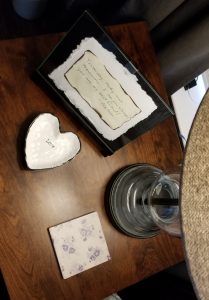 Personal touches included a framed quote from Corinthians, sweet personal notes from & to each of the pair for the nightstands and a relaxing coffee & reading retreat for Mr. to ease into his morning – in the comfort of a family heirloom chair perfectly lit by a cantilever drum light hanging gently overhead.
As a small token of my appreciation for this pair's patience and trust in me to get the job done – I hung a beautiful wall piece named "God's Fingerprint" above the head of the bed. It includes one verse from each chapter of the Bible in a fingerprint pattern – and it is a stunning visual as soon as you enter the space.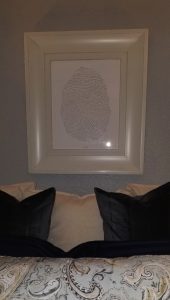 Focus on the End Goal
This project – just like any that I am involved in – was important, but even more, it was a test of perseverance when things get tough and frustrating. It taught me that in the end, no matter the fault of shortcomings or challenges when things don't go quite right… the customer's happiness is the most important goal.  Luckily I was working with quite literally – the most patient & understanding people on the planet – hands down.
BEFORE & AFTER PHOTOS
Take a look at the before & after galleries below! The transformation is stunning! If you are thinking about a new look in your space – LET'S TALK ABOUT IT!
copperas cove interior designer, master suite makeover, master suite remodel, maison chic interiors, harker heights interior designer, killeen interior designer, bathroom remodel, bathroom contractor, master bedroom restyle, interior decorator, shower remodel,