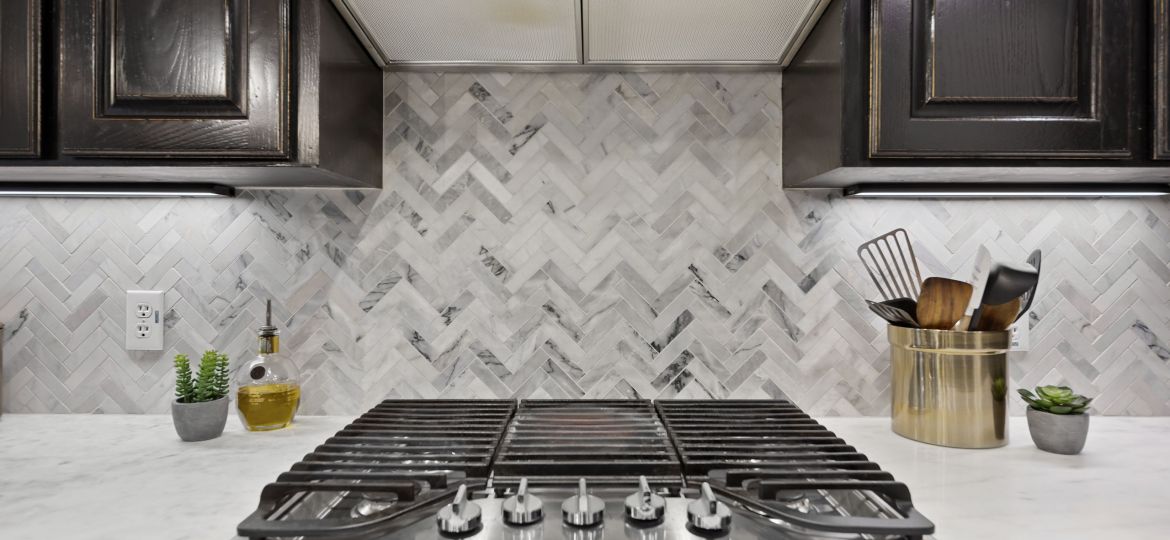 Hilltop Remodel & Refresh – Killeen TX
These clients had the patience of saints! Supply chain issues affect the design world too & this project was no exception… but patience and perseverance paid off so big with this gorgeous remodel and refresh.
Glam meets comfort in this design with bright and airy neutral grays – and then we added a touch of drama with the bold black accents. 
The kitchen didn't need much as the clients had already darkened the original stained cabinets to a moody & distressed black. The appliances were also previously updated but the original earth toned granite & backsplash remained. Together with the client we shopped for the perfect countertop stone and landed on a stunning white calcite choice with faint swirls of gray for an elegant marbled finish. The coordinating marble backsplash tile in a herringbone pattern, gold accents on the faucet and accessories set the tones for the rest of the open main living space. 
After the old fireplace mantel was removed, we carried the marble herringbone tile onto the surround as well. Black shiplap on the facade with a simple stained mantel created a sleek and updated feel in the room. Comfy fabrics on the sofa, pillows & throws helped to warm up the space. Long casually elegant drape panels were the final pieces to bring the whole look together. 
In the end, the client has an inviting, comfortable and gorgeous space to live in that is also a masterpiece to show off when entertaining opportunities come up!
Thinking about a refresh in your space? Let's talk about it!