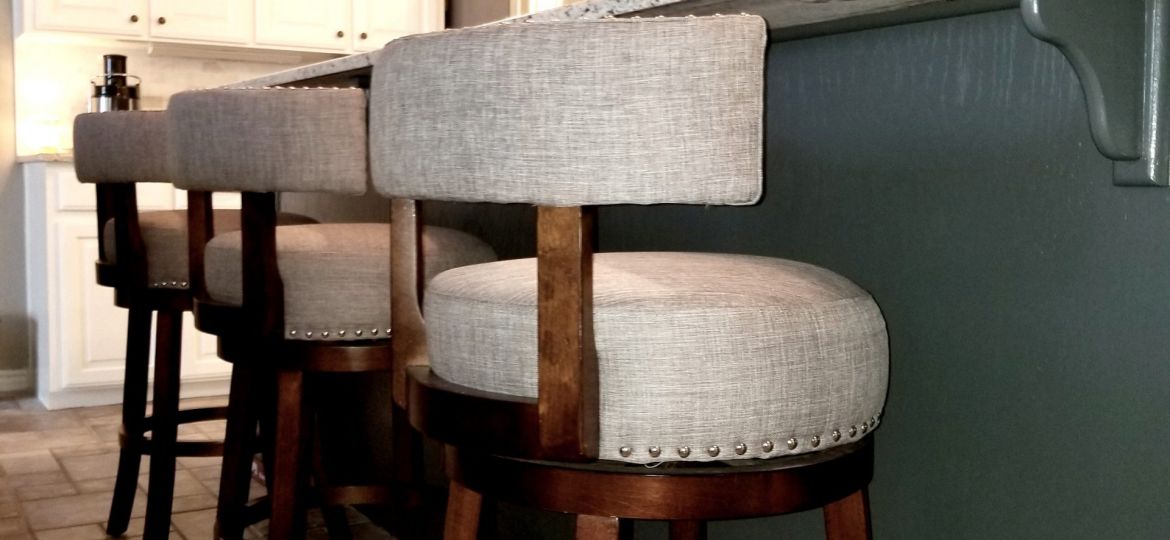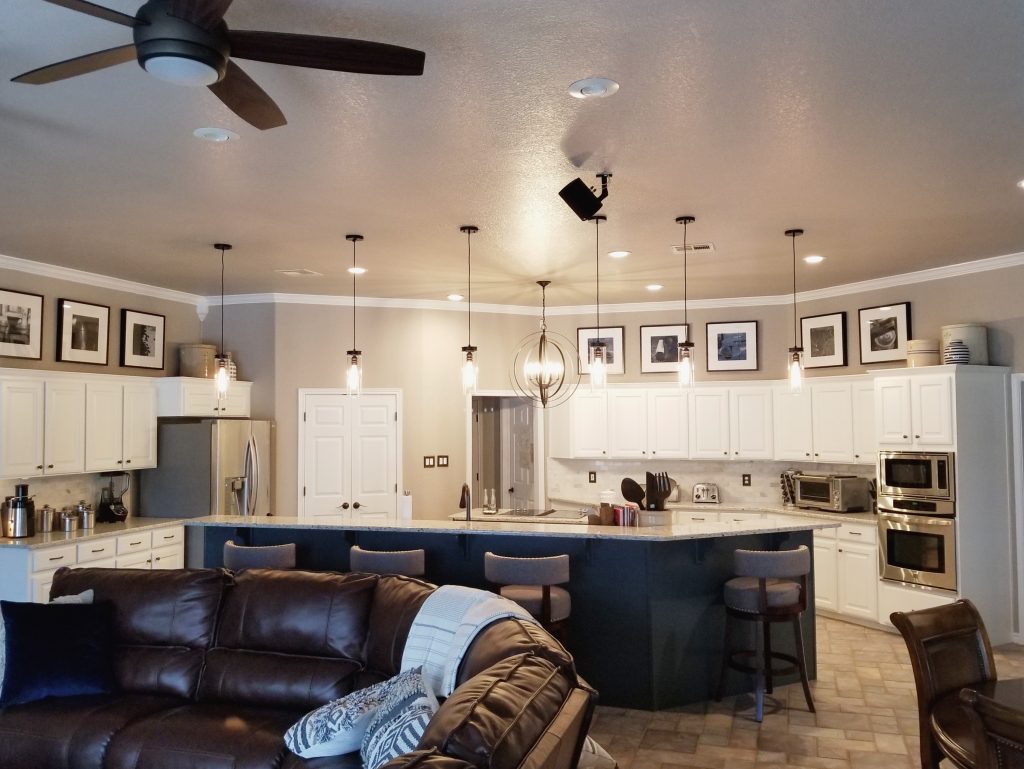 D & K Kitchen Remodel & Restyle – From drab to FAB
OPEN CONCEPT KITCHEN & LIVING SPACE
Sometimes when a client calls about a specific room redo – and that project is complete… the remaining rooms stick out like a sore thumb. This was the case fo D & K. They originally contacted Maison Chic Interiors for a living & dining room restyle, and we worked hard to give them the refreshed & simplified look they desired. The living room was located in a very large open space that included a huge kitchen and casual eating area. Once we completed the remodel & restyle of the living area…the kitchen was clearly off regarding the style & dated theme. So, we put together a kitchen remodel plan to correct the design differences and melded the two areas together as if they were one again.
NEW CABINET DOORS
The kitchen remodel budget didn't allow for all new cabinets, and the footprint of the kitchen didn't need to be changed – so we opted for new cabinet doors and granite counter tops. Off came the tile tops and a few fresh slabs of Dallas White now adorns the surfaces. Stunning marble backsplash tiles created a clean & crisp transition from the counters to the cabinets.
LIGHTING IS EVERYTHING 
Lighting was literally EVERYTHING in this space… and after hours of searching for the perfect combination – we put together a gorgeous set of sleek and functional lighting fixtures that became the crowning jewels for the entire room.
Along one side of the large open space was a wall that looked long forgotten. It was oddly spaced and placed considering it had no purpose. The client had placed a curio cabinet there in their original design but the piece no longer fit the new look, so we were left with an open and unused wall. A new bank of cabinets was designed & installed with a built-in beverage refrigerator. The new space was an excellent location for a custom coffee bar and that is exactly what it became.
CUSTOM COFFEE PHOTOGRAPHY
In the first talks about design, the client expressed her love for coffee and asked about a "coffee theme" for the kitchen. Folks…it's really easy to end up with a cheesy result when you start trying to "theme" a room – but we came up with an amazing design that not only satisfied the client's wishes – but added another layer of elegance to the space. A local photographer was sourced to capture & create black & white images of coffee related items & scenes. What we ended up with was a collection of beautifully matted and framed pieces that now grace the area above the cabinets in a gallery style layout.
MORE WOW IN OTHER ROOMS
The entire space now flows together as one, as well as coordinates with the adjoining rooms, dining, entry, office and game room.
MAJOR FIREPLACE MAKEOVER
SEE D & K LIVING & DINING ROOM RESTYLE HERE
KITCHEN AFTER GALLERY
D & K OFFICE RESTYLE
Thinking about a new look in your space? Let's talk about it!
living room restyle, living room remodel, kitchen remodel, white cabinets, white and blue paint, dallas white granite, large open concept, island kitchen, bronze lighting, marble backsplash, maison chic interiors, killeen interior designer, harker heights interior designer, paula raymond, salado interior designer, interior design,